It is that time again *drumroll* time for my favourites! I wanted to bring something to life that would give me the opportunity to show you guys what I like most in our bookish little world. When I found a little time between reading I finally came up with an idea, MY FAVOURITE.
My favourite will be a way of me showing you what my favourites are in the endless world of books. I wanted to start of with something that has been on my mind lately, summer. It is always a bit tricky to find the perfect reads for summer, you don't want to find yourself being bored with your book when you're lying at the beach in a far away country with no internet connection. That is why I started my summer read list for this year. The following books look amazing to me and will be stored on my iPad so that I will be able to take them to wherever I'm going on my holiday. The books are not in a particular order.
♥ What
I Thought Was True - Huntley Fitzpatrick
♥ Summer
on the Short Bus - Bethandy Crandell
♥ Don't
Look Back - Jennifer L. Armentrout
♥
Great - Sara Benincasa
♥ Rebel
Belle - Rachel Hawkins
♥
No Place to Fall - Jaye Robin Brown
♥
To all the Boys I've Loved Before - Jenny Han
♥
Since you've been Gone - Morgan Matson
♥
The Museum of Intangible Things - Wendy Wunder
♥
Open Road Summer - Emery Lord
Gwen Castle's Biggest Mistake Ever, Cassidy Somers, is slumming it as a yard boy on her Nantucket-esque island this summer. He's a rich kid from across the bridge in Stony Bay, and she hails from a family of fishermen and housecleaners who keep the island's summer people happy. Gwen worries a life of cleaning houses will be her fate too, but just when it looks like she'll never escape her past-or the island-Gwen's dad gives her some shocking advice. Sparks fly and secret histories unspool as Gwen spends a gorgeous, restless summer struggling to resolve what she thought was true-about the place she lives, the people she loves, and even herself- with what really is.
Summer on the Short Bus by Bethany Crandell
Spoiled, Versace-clad Cricket Montgomery has seventeen years of pampering under her belt. So when her father decides to ship her off to a summer camp for disabled teens to help her learn some accountability, Cricket resigns herself to three weeks of handicapped hell. Her sentence takes a bearable turn as she discovers the humour and liveability of the campers and grows close to fellow counsellors. Now, if she can just convince a certain Zac Efron look-alike with amazing blue eyes that she finally realises there's life after Gucci, this summer could turn out to be the best she's ever had.
Don't Look Back
by Jennifer L. Armentrout
Samantha is a stranger in her own life. Until the night she disappeared with her best friend, Cassie, everyone said Sam had it all-popularity, wealth, and a dream boyfriend.
Sam has resurfaced, but she has no recollection of who she was or what happened to her that night. As she tries to piece together her life from before, she realises it's one she no longer wants any part of. The old Sam took "mean girl" to a whole new level, and it's clear she and Cassie were more like best enemies. Sam is pretty sure that losing her memories is like winning the lottery. She's getting a second chance at being a better daughter, sister, and friend, and she's falling hard for Carson Ortiz, a boy who has always looked out for her-even if the old Sam treated him like trash.
But Cassie is still missing, and the facts about what happened to her that night isn't just buried deep inside of Sam's memory-someone else knows, someone who wants to make sure Sam stays quiet. All Sam wants is the truth, and if she can unlock her clouded memories of that fateful night, she can finally move on. But what if
not
remembering is the only thing keeping Sam alive?
Everyone loves a good scandal.
Naomi Rye usually dreads spending the summer with her socialite mother in East Hampton. This year is no different. She sticks out like a sore thumb among the teenagers who have been summering (a verb only the very rich use) together for years. But Naomi finds herself captivated by her mysterious next-door neighbour, Jacinta. Jacinta has her own reason for drawing close to Naomi-to meet the beautiful and untouchable Delilah Fairweather. But Jacinta's carefully constructed world is hiding something huge, a secret that could undo everything. And Naomi must decide how far she is willing to be pulled into this web of lies and deception before she is unable to escape.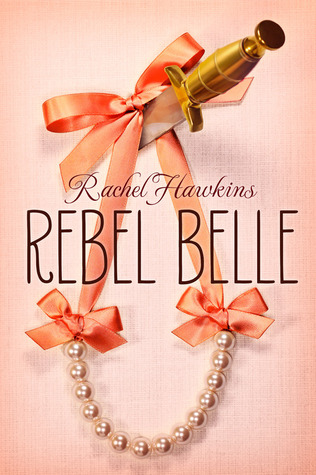 Rebel Belle by Rachel Hawkins
Harper Price, peerless Southern belle, was born ready for a Homecoming tiara. But after a strange run-in at the dance imbues her with incredible abilities, Harper's destiny takes a turn for the seriously weird. She becomes a Paladin, one of an ancient line of guardians with agility, super strength and lethal fighting instincts. Just
when life can't get any more disastrously crazy, Harper finds out who she's charged to protect: David Stark, school reporter, subject of a mysterious prophecy and possibly Harper's least favorite person. But things get complicated when Harper starts falling for him—and discovers that David's own fate could very well be to destroy Earth.
No Place to Fall by Jaye Robin Brown
Amber Vaughn is a good girl. She sings solos at church, babysits her nephew after school, and spends every Friday night hanging out at her best friend Devon's house. It's only when Amber goes exploring in the woods near her home, singing camp songs with the hikers she meets on the Appalachian Trail, that she feels free—and when the bigger world feels just a little bit more in reach.
When Amber learns about an audition at the North Carolina School of the Arts, she decides that her dream—to sing on bigger stages—could also be her ticket to a new life. Devon's older (and unavailable) brother, Will, helps Amber prepare for her one chance to try out for the hyper competitive arts school. But the more time Will and Amber spend together, the more complicated their relationship becomes . . . and Amber starts to wonder if she's such a good girl, after all.
Then, in an afternoon, the bottom drops out of her family's world—and Amber is faced with an impossible choice between her promise as an artist and the people she loves. Amber always thought she knew what a good girl would do. But between "right" and "wrong," there's a whole world of possibilities.
To All the Boys I've Loved Before is the story of Lara Jean, who has never openly admitted her crushes, but instead wrote each boy a letter about how she felt, sealed it, and hid it in a box under her bed. But one day Lara Jean discovers that somehow her secret box of letters has been mailed, causing all her crushes from her past to confront her about the letters: her first kiss, the boy from summer camp, even her sister's ex-boyfriend, Josh. As she learns to deal with her past loves face to face, Lara Jean discovers that something good may come out of these letters after all.
The Pre-Sloane Emily didn't go to parties, she barely talked to guys, she didn't do anything crazy. Enter Sloane, social tornado and the best kind of best friend—the one who yanks you out of your shell.But right before what should have been an epic summer, Sloane just... disappears. No note. No calls. No texts. No Sloane. There's just a random to-do list. On it, thirteen Sloane-selected-definitely-bizarre-tasks that Emily would never try... unless they could lead back to her best friend. Apple Picking at Night? Ok, easy enough.Dance until Dawn? Sure. Why not? Kiss a Stranger? Wait... what?
Getting through Sloane's list would mean a lot of firsts. But Emily has this whole unexpected summer ahead of her, and the help of Frank Porter (totally unexpected) to check things off. Who knows what she'll find?
Goodreads - Amazon - Barnes and Noble
Hannah and Zoe haven't had much in their lives, but they've always had each other. So when Zoe tells Hannah she needs to get out of their down-and-out New Jersey town, they pile into Hannah's beat-up old Le Mans and head west, putting everything—their deadbeat parents, their disappointing love lives, their inevitable enrollment at community college—behind them.
As they chase storms and make new friends, Zoe tells Hannah she wants more for her. She wants her to live bigger, dream grander, aim higher. And so Zoe begins teaching Hannah all about life's intangible things, concepts sadly missing from her existence—things like
audacity
,
insouciance
,
karma
, and even
happiness
.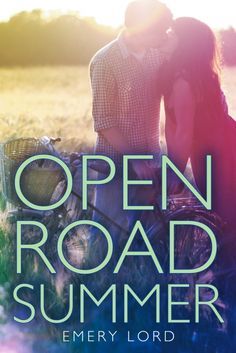 Open Road Summer by Emery Lord
After breaking up with her bad-news boyfriend, Reagan O'Neill is ready to leave her rebellious ways behind. . . and her best friend, country superstar Lilah Montgomery, is nursing a broken heart of her own. Fortunately, Lilah's 24-city tour is about to kick off, offering a perfect opportunity for a girls-only summer of break-up ballads and healing hearts. But when Matt Finch joins the tour as its opening act, his boy-next-door charm proves difficult for Reagan to resist, despite her vow to live a drama-free existence. This summer, Reagan and Lilah will navigate the ups and downs of fame and friendship as they come to see that giving your heart to the right person is always a risk worth taking.
I had so much fun putting this list together, if you have any additions, please let me know! I am always looking for new books and love hearing from you guys.

MY FAVOURITE FOR NEXT WEEK; MY FAVOURITE BOOK QUOTES
If you want to join, link up below with the URL to your actual blog POST, your name and your email; which will stay hidden.